---
Do you have XXXXX plant/seeds for sale? How much does it cost?
If plant/seeds is listed in our online store or you see price in online catalog, then we have it for sale. If you don't see the plant/seeds in the online store and there is no price in the catalog then we don't have it for sale. You can use wish-list (below plant description in online catalog or in online store) to get notified when we have that particular item for sale.
Do you have this plant for sale?
See Catalog (if you don't see the price, plant is not for sale)
See Order page - use alphabetic list
When will you have this plant for sale?
Subscribe to our mailing list (Newsletter) to regularly receive our new arrivals updates, website news and discount coupons.
What plant do you recommend?
See our Catalog - FREE
Consulting (Landscaping) services upon request - CHARGE
The plant is marked as poisonous. I have pets, is it dangerous for them?
Unlike humans, pets are usually smart enough not to eat junk food. If in doubt, chose between a smart plant and a silly animal.
What is the plant size?
See plants size
Whta does "blooming size" mean?
It means, the plant is mature enough for blooming. It doesn't mean the plant will be shipped to you with flowers, although some of them have flowers or buds.
Do you have bigger size plants?
We can provide large size plants (7 gal pot and bigger) for custom orders. Please contact us with the list of plants. Delivery and installation available within South Florida.
When will it bloom?
See answer
When will it fruit?
See answer
Do you guarantee it will bloom/fruit?
Can you guarantee your teenage son become a nice person? You have a chance, do your best.
Do you quarantee safe transportation?
Will this plant grow in my area outdoors?
Check with your Local Extension Service - FREE
I still want to know can I grow it outdoors?
All our plants are tropical or subtropical (zone 10-11, very few are hardy to zone 9). This means freezeless winter. Check your USDA temperature zone.
I still want you to tell me can I grow it outdoors?
In some areas of FL and CA - yes (also HI, but we don't ship to HI). A few plants from our catalog can tolerate light frost for a short period of time (Frost pictogram). Those plants might be also grown in some areas of TX, AZ and other Southern States. Check with your Local Extension Service about specific area. If you have frost in winter - consideder moving pots indoors or build a greenhouse.
Check out our Tropical Treasures Magazine - Pushing the limits of tropical gardening.
Can I keep this plant in a pot?
Yes. Start your research with potting instructions.
Can I add item to my order?
Yes. Please email us list of items and your order #, we'll add items to your order.
Can I pay with a check?
Yes. You may use this order form. However, we can not guarantee items to be in stock until the check is cleared.
Will you ship to my State/Country?
When my order will be shipped?
See Shipping Info
See Order status
Please include care instructions
General planting instructions are included with every order, plus you may read them on this page.
Learn more about growing tropical plants.
I have a plant business, can I get wholesale prices?
Yes. Please contact us with the list of plants you are interested. We don't carry wholesale price list, rather offer discounts depending on your order total.
I received my order, but the plant is stressed from shipping. What should I do?
See Troubleshooting.
How much water/light/ferilizer/humidity/pesticide I need for this plant?
Refer to Catalog pictograms to determine gereral plant needs.
See Troubleshooting for most common questions and possible problems assossiated with water/ferilizer/humidity/pests.
I got a plant, but it died...
See our guarantees
See ordering plants in mail
Learn more about growing tropical plants, it takes experience!
Read Trobleshooting so next time you make it!
I'm a returned costomer, can I get my promised 10% discount?
10% discount coupon number is on top of your invoice that came with your previous order. If you lost it, we'll send you a number upon your request before you placed your next order.
If you already placed your order without using a coupon, we can add extra plant to your order to cover unused discount.
Subscribe to our mailing list (Newsletter) to regularly receive discount coupons.
I want citrus plants!
Due to quarantine in Florida, we are unable to ship citrus plants outside of Florida. Also, we can not ship other plants from Citrus family, such as Curry Leaf (Murraya).
---
Didn't find the answer? Start over with more specific questions and answers.
---
Prices, sizes and availability: see sections of our Order page
Cultivation questions: visit our Forum and visit our page Jungle on Windowsill
Complete shipping info: Shipping Info Page
---
A: Type plant name or part of plant name in search field above. Common name will work but don't be surprised if search returns many plants with the same common name. If you don't know exact spelling try typing part of the name.
You can also go to main catalog search page, which gives you many advanced search options
A: You can do it on image search page.
A: Our online catalog is an information project. It's more than just store picturial plant description. It has thousands of plants and used very extensivly by people, who need information about tropical plants. Plants offered for sale can be found in out online store.
A: All plants we sell are big and mature with well-developed root system and foliage (see pictures below), most of them are blooming size. Many plants are 1 gal pot size, some are 3 gal. Some plants are already in bloom (be aware that flowers might drop during shipment). Please refer to Our Products page for more info about our plants.
A: You may read a feedback about our plants on GardenWeb forum and in our Guestbook. Please refer to Our Products page for more info about our plants, including their size.
A: We are not economizing on pots. However, the reason we ship plants without pots is because we're tossing off extra soil to save your money on shipping, which may become more expensive than the plant itself. More info about shipping process - on Shipping Info Page. Another reason to remove pots is because the packaging is safer without a heavy pot which may result in stem base brake during transportation. If you need a pot - let us know, we'll include it for free!
A: The shipping and handling charge covers much more than just the cost of the postage. It is a rather long process to prepare plants for shipping so that you will receive them with a minimum of problems. Remember boxes and packing supplies also have cost. This S&H charge in the case of very large and heavy plants, is often not enough, especially when shipped to states like CA, WA, OR, etc - far from Florida where we are (shipping cost is calculated aoutomatically by our shopping cart regardless the destination, but USPS charges depending on distance). Many CA customers have noticed that sometimes we lose on S&H.
A: There is a cancellation fee on all cancelled orders, which occurs because of transaction fees with our Merchant Provider. Besides, if your order is already packed, it will be extra handling/cancellation fee. If your order is shipped - sorry, we can't help you, too late. Please don't wait till last minute if you changed your mind to buy a plant. More info about cancellation fees - see order page.
A: We have separate price list pages for different plants types.
All information regarding prices and plants size is located on price-list pages (order section) for each plant. Using our online shopping cart makes it easy for you to view your cart contents, to add and remove items and to see the total, included shipping/boxing charges.
See more information about how to use shopping cart.
A: All plants that are available for sale are located in our price list.
1) If the plant is not in the price list - that means, it's not for sale at the moment
2) Regarding prices and sizes - see next question/answer
3) Sometimes plant size may slightly differ from advertised, but most of the time - it's bigger. Our plants grow so fast that we're having a hard time updating their size in the price list.
A: Add item to your shopping cart, and press "Add shipping" button to see charges. More info on Shipping Info Page.
A: Yes, there are many options:
1) You can pick up plant at our location and avoid shipping charges.
2) You can write a letter to Postmaster General asking to lower postage charges.
3) You can ask our employees to work without pay when packing your order.
4) You can ask our packaging suppliers to lower their cost.
and so on.
We don't "hide" shipping cost inside plant cost. It would be unfair to local customers who buy plants from us. S&H charges are to cover S&H expensces. We try everything to maintain shipping charges at the lowest level. Despite to what some people think we (and any other mail-order company) don't make money on shipping. Consider cost of packaging supplies (and all supplies have to be delivered and these delivery charges are steep as well), consider time to pack every plant (they all "non-standard" sizes and can't just be pulled from warehouse shelves and put in a box. Every one has to be inspected and individually packed), consider cost and time to deliver packages to the Postal Office (35 miles one way). If you take this into account then you may understand our shipping and handling charges structure better.
If you still think it's too expensive, then you may wish to consider other sources to get your plants.
A: You may order a printed catalog from this page. However, we have new arrivals and special deals every week which of course we can't update in pour printed Catalog. Assuming you are reading this from the Website, you have internet excess. On our website (order page) we have the most complete and up-to-date selection, plus many special offers and sales that are not included in printed Catalog. So we suggest you to browse our online Store and Catalog which is more informative. However, if you would like to get a printed copy, you may order it online along with your next order of plants from order page.

A: There is not much sense to email us a list of plants. We aren't plant brokers and unable to locate plant for you if we don't have it in stock. If we have plant in stock, then you can find its price online. See this question as well: Do you have XXXXX plant for sale? How much does it cost?
A: The only plant which reliably blooms all year is a plastic one. Everything else is blooming on and off. Some plants bloom on and off whole year, others bloom only in spring or summer. We sell rare plants. They require sometimes extra care (especially, if you want them to bloom) and we just don't want to disapoint you. If you are looking for specimen plant, then, for example, you can consider Michelia. It has wonderful frangrance, but it blooms only during summer period.
Brugmansia is another example. See this picture. It blooms on and off all year.
A: We can make picture of our plants, however, we have no way to to guarantee of shipping "the choosen one". And here is why:
We make a group picture and email it to you. How would you describe one you like? "Second from the right"? "The one I marked with red mark"? Well, how you want us to translate it to real life? If we make picture from one direction and pick plants from another direction, how can we do it? Or we rearranged plants closer to each another? The only reliable way is to mark all plants and make a "suspect line-up", so you can tell "I want number 5".
What if walk-in customer want to buy plant from this group? Should we tell him - "no-no, you can't buy it because we have a potential customer, who promise to choose from this group before end of next week . Maybe he/she will place an order"? Or should we email you - "ops, that particular plant is sold. Here is the new picture. Please, select from it"
Some plants looks different from different angles. WHen you take the plant from the box it may look differently from the picture, simply because of different lighting condition, angle of view, etc. You will be dissapointed.
And the most important thing. We don't pull plants by orders individually. We create pick-up list for each shipping day - "5 these plants, 10 these, and so on". Only after we bring all plants, we start to fill individual orders. How can we teack individual plant? What if a mistake is made?
Therefore, unless you're ready to pay extra for individual order handling we won't be able to do it.
A: The price lists indicate the plants we have in stock. If you don't find a certain plant in our price list - that means, we don't have it for sale at the moment.
A: Please check when did you recieve notification email. Five days ago? Well, you wanted that particular plant really bad. So, other people wanted too. They just snapped it quick.
Sometimes we can propagate just a few plants. Unfortunately, we can't outsource them to China and have them produced like computer parts. Yes, for popular rare plants we usually have more requests than plants. What should we do if we don't have adequate supplies? Don't send notification emails at all?
How can we limit purchases? Even if we limit number of ordered plants per order, nothing prevent a customer from ordering it second time. If we start to track emails, phone numbers, names, etc, then people will ask friends to place order for them.... The only reliable way is to require a customer to come in person and record the SSN and fingerprints. Or use system similar to voting registration: one person - one vote. Does it sound absurd? Yes, for us.
Let's say somehow we limit purchases. How can we prevent local customers from buying plant at the nursery?
Let's say we have 100 requests for a certain plant in wish-list. Out of this 100: 10 people provided wrong email or used a spam-filter, which requires manual confirmation, so they never get anything from us. Another 20 already found this item someplace else. Another 25 simply changed their mind and don't want spend money. What should we do? How we can track requests?
How we can prioritise requests. Can customer have higher priority because he's been waiting since 2005, or something else. And John Doe should not be able to get the plant, since he lives in Minnesota, doesn't have a greenhouse, or simply has a black thumb. How we should handle this?
We don't collect money in advance, since we have no idea when we have certain plant and how many we'll be able to propagate. They all may just die.
Yes, after we email notification, the wish list record is removed. We don't control who returned back to buy plants from the wish-list. How can we do it, if somebody uses different email from hotmail account he used 3 years ago in wish-list. We won't be able to remove the record and the customer will get the same notification next time the plant is for sale and so on. It's called SPAM. And our database will be overloaded with old requests.
All above is just to give an idea, that fair distribution of limited supplies is virtually impossible. Therefore, we choose the equal opportunity way: everybody gets opportunity to get the item, when he/she gets an email.
A: We are unable to know when Postal Service schedules deliveries in you area. You have to ask at your local Post Office. They deliver Priority mail along with other regular mail. You don't have to sign for it. But we don't know regulations in your community - if they deliver to your door/house or appartment office, etc. Delivery time is 2-4 days to most destinations (average).
We send you a shipping confirmation email when the order is shipped.
A: Peanuts are bad. And they're very expensive. We're always open for alternatives. What can you suggest?

Don't use any packing material. As long as you agree not to complain about broken plant, we'd be happy to do it. And reduce S&H, because shipping of 6 ft tall plant takes lots peanuts
Bubble-wrap. Just expensive.
Use shredded newspaper. Please, do us a favor. Next time when you empty your office shredder, spend few minutes and weigh it. You didn't expect it to be that heavy, right? Would you like to pay more money for heavy boxes? Who would pay for truckloads of newspapers delivered to us and get it shredded? And, by the way, shredded paper doesn't really protect plants in transit
Use new cool bio-degradable peanuts. Do you know they're made out of starch? That means we'd have to build a warehouse with controlled humidity, otherwise, these peanuts absorb water and turn into a mess. We're in the middle of nowhere, with lots of wild-life, including rats, mice, etc. They will really appreciate extra food. These "popcorn" is good for electronics, but definetely not for our purposes.
We tried everything. And nothing works better than styrofoam peanuts. You don't know what to do with them? Put them in a bag and keep them. One day you will use them. We recycle every peanut from every shipment we recieve.
A: When you use our online shopping cart and pay for your order via our secure server connection, both you and we receive confirmation emails automatically. Please read online payment help for more info. The confirmation email includes a list of ordered plants, costs of plants and shipping, and total amount paid. If you use anti-spam software, make sure to incluse our address in your acceptance list, otherwise you might never receive a confirmation email.

A: Our shipping days are Monday-Thursday.
We ship via USPS Priority Mail which takes 2-3 days to most destinations, so Monday shipments most likely arrive on Wednesday or Thursday. In some states, more distant from Florida (like WA) our customers sometimes get their orders delivered on Friday.
For more info about shipping - see Shipping Info Page.
A: Shipping live plants is different from shipping computer parts or books. We have to make sure everyone gets plants before the weekend. No matter where they live. You don't want you precious plant spend weekend in a warehouse.
We can only ship as many orders as we can pack plants during the day and bring them to Post Office or be ready before UPS truck comes. We can't pack plants in advance, because we don't want them to spent extra time in boxes.
We're 40 miles away from the Post Office, so we try to ship all USPS boxes once or twice a week to minimize expenses. We spend more than hundred thousand dollars annually on USPS and we still couldn't make to pickup our boxes, like UPS does
All these mean we can't ship the next business day. And if you place order on Wednesday or Tuesday, it has to wait till next shipping day for your state.
West Coast orders are shipped on Mondays, Illinois are shipped on Tuesday. Georgia takes only 2 days in transit, so it's shipped on Wednesday, and Florida on Thursday.
All orders are processed according their shipping schedule on Friday evening. Which means, if you place an order on Saturday morning, it has to wait till next Friday to get processed. Plants are pulled day before actual packing starts or in the morning of the shipping day
A: Yes, we can. However, our shopping cart is designed to calculate only Priority Mail shipping charges. If you want your order "next day", please contact us for special arrangements.
A: No, we can't. All plants have to be declared and proper paperwork (phytocertificate, etc) has to be obtained. All internationally shipped packages will be declared at full purchase price. No exceptions.
A: We can't ship live plants to military APO address. The main reason is that we don't know where is located. If this is outside of the USA, then we have to comply with live plants export-importregulations, which is complicated procedure. Also, we don't know how long does it take to deliver the plant and if the package will be opened, so we can't guarantee anything. Same is true for US Embassies. It's considered the US territory. However if a country, where the Embassy is located, prohibits importation of certain plants then you have to comply with regulations even if you want to grow it inside the Embassy and get it delivered by the diplomatic mail.
A: Well, nobody likes to pay tax. We understand that. But we're required by law to collect these taxes for all orders sent to Florida addresses. If you didn't provide proper state to calculate taxes, then we'll add taxes separately to your credit card. If you're tax exempt then contact us before placing an order and we'll help you.
A: Our Guarantees. As you can see, we only can guarantee a good condition of a plant when it leaves our nursery.
If something happens in transportation, it is beyond our control. However, we may send you a replacement with yor next order so we can cover shipping cost. Please contact us in exh individual case within 3 days of delivery if there is any problem with plants you received.
A: When the package wasn't properly handled, it's beyond our control which is explained in our Guarantees section. We do our best for the best packaging and special labeling ("fragile" sticker). If the damage was not caused by our bad packaging, we can not be responsible for it. Please read more information about shipping procedure and possible problems.
A: Solanums are heavy-drinkers, the plant needs plenty of water daily. It probably got over-dried in shipment. Water well, place in shade and the plant will survive, it's hard-to-kill one. It might drop leaves, but this won't be a fatal sign. Leaves will grow back.
A: We don't grow cacti (except for a very few rare bloomers). We grow tropical (some of them rainforest) plants as you can notice from our name and selection. It's obvious that our plants are not cacti thus cactus mix is not good for them.
Soil. In fact, we DID mention about soil. We have soil recommendations on our website and encourage our customers to get more info before ordering. Soil recommendations are also included in planting instructions that comes with every shipment.
PLEASE don't plant our plants in cactus mix! If you don't know where to get a good potting mix, order it from us along with your plants. DO your homework, refer to our Catalog and Articles before ordering!

A: "Dead at the top" doesn't mean "dead". Cut off the dead part of the branch, the plant will grow from side buds. Holes in leaves is not fatal either. Please understand that we are not a florist shop, we don't sell fancy-looking arrangements, we sell "plant material" for gardeners who grow a nice and large plant from it. Some snail damage may occur because our plants are grown outdoors, in natural environment; although we provide professional itsect control on regular basis. Please read more here.

A: According to our Guarantees Policy, we may replace plants that were badly broken or died during transportation if it was caused by improper packaging. You need to notify us within 3 days after delivery. Once you received a plant - this plant becomes yours. No guarantee, expressed or implied, is made for the successful growth after planting. We will not assume responsibility for plants which have died as a result of improper planting or care. Please refer to our Guarantees section for more information. It looks like it was overwatered.
A: We use well water which contains a lot of lime and some iron. The residue should wash off with few drops of dish soap added water. You may use a very light solution of vinegar, too. After cleaning, rinse the leaves well with clean water.
A: Many legume plants (Cassia, Delonix, Senna) and some other plants (Moringa is well know for it) drop leaves when in stress. Shipping is a big stress. Don't worry. Just make sure to keep it shade, in small pot. Water only when soil is somewhat dyr to touch. Plant will recover.
A: It's very important for you to get our shipping confirmation email with UPS tacking number or USPS delivery confirmation number. You can check your package whereabouts online (link will be provided in that email). If your package status on UPS/USPS webpage is "delivered", then the package was delivered. If you didn't receive it, than here what you should do:
Stop panicking.
Look around, maybe the package was left on your porch, or signed off by your office manager, who forget to tell you. Sometimes, delivery driver idea about safe location is very different from yours.
Contact USPS/UPS right away. They will check with the driver. There is not much sense to ask us about the package, because we don't know. Even if you beleive in conspiracy, please trust us, we aren't powerfull enough to hack into USPS website and alter tracking information. Status can be updated only if the package is physically scanned by the driver. Again, it can't be done in advance. Only when driver delivers a package. Well, in theory he/she can scan all packages in the truck in advance, push them into the river and go to sleep in woods, but we never heard about such cases.
Check with your neighbours. Maybe, the driver made a mistake. Especially, if you live at 45 Court and 45 Circle is the next street.
If you still aren't able to locate the package, let us know and we'll file a cliam.
Again, it's very important to check package whereabouts after it's been shipped. And contact USPS/UPS right away first in case of problems.
A: The Easter Lily Vine is considered to be a tropical plant, while some people say they are hardy to light frost. However, cold winter or lack of heat/light could be the reason why it doesn't want to bloom. Try to apply bloom-booster fertilizer during hot season (according to instructions, and do not over-fertilize!). Even here in subtropical Florida it is not easy to make it bloom. While in Thailand these plants are almost in every garden and bloom like crazy. We had the 1ft tall plants here blooming in spring, but not all of them. They came last fall from Thailand and overwintered here. One more thing - if it grows leaves/stems like crazy, this means, too much nitrogen. Make sure to use only blooming fertilizer like 10-50-10 First number - Nitrogen, must be low. Lawn (grass) fertilizer shouldn't reach the area where it grows. Try to plant something (ground covers, something heavy feeder and fast growing) underneath the vine. It might "eat" the nitrogen from the soil around....
A: We grow and sell tropical plants. Tropical plants grow in tropics. Tropics are the area with warm climate. Tropical plants won't grow outside of tropics and very limited areas of subtropical climate. Therefore, there is not much sense to provide zone information for tropical plants. Few exceptions are noted in our catalog with special icon. Still, these plants can only tolerate short periods of few degrees below freezing, not a "full-scale" winter. If you want to grow our plants in Zone 7, then you have to grow them in pots.
A: Most of the indoor plants are tropical or subtropical - which means, they need warm temperature in range between 50-90F. Indoor conditions may be suitable then for almost any tropical plant. However, blooming reqiures lots of light (energy) - make sure you can provide it. In order for fruit to appear the flowers must be pollinated by insects. Take the plant outside during spring and summer after the danger of frost then move your tree indoors during the winter. Most tropical trees can not withstand temperatures below 32 degrees for long periods. If you are growing in a greenhouse or fully indoors you will need additional artificial lighting or very sunny window. You will also need to learn how to hand pollinate, although some fruit trees will still fruit without hand pollination.
A: Fertilizer with high nitrogen content promotes growth. It's good for grass or ornamental plants, but you don't want to use it for blooming plants. You should use something like 15-15-15 (or similar balanced fertilizer), preferably slow-release (Osmocot or similar). Make sure fertilizer has microelements, especially iron. Alternatively, you can use microelement mix. To promote blooming, use "Bloom-Buster" soluble fertilizer with high phosphate and potassium content (something like, 15-50-30). Of course, the conditions must be rght for blooming - temperature, sun, etc.

A: All the information we have about particular plants we collect in our Online Catalog. Refer to Catalog articles to learn more about particular species. You can grow our tropical plants indoors or in a green house during winter and treat them as regular house plants. Make sure to provide enough light and reduce watering during winter, and do not fertilize till spring.
A: Erythrina is a very cold-sensitive plant, and what probably happened (besides bending from wind), the leaves got too stressed with chilly wind and the plant sensed it was time to go dormant. Erythrina drops leaves every time when it feels something's wrong. Last year my Erythrina tree was damaged with bugs, and it dropped all leaves overnight. It took it a few months to recover. Another example - now we have Bauhinia monandra tree in our backyard which was severely battered by Frances winds lately. All leaves turned brown. I'm sure it will recover in a while.
Recommendations:
1) Secure the tree with a rope and metal rods (stretch 3-5 ropes in different directions from center of the tree) so it stands vertical.
2) Do not water. It's already too much water from rain. If sprinkler is near by - cap it's head. If the tree "decided" to go dormant - it doesn't need it too wet.
3) Do not fertilize until you see new growth of leaves. Fertilizing of a sick plant may kill it.

A: The brosure you got along with your order was just general planting instructions with approximate availability list (our availability changes all the time), and your plant may not be listed in the list. And yes, those were just a couple separate pages with general info, it's not that something's missing. Although most of tropical plants need some general care, there could be specific skills that come with your experience and research. We try to present as much as possible information in our Online Catalog. Of course it's hard to cover all questions that might occur.

A: Sambacs are susceptible to spider mites. If you suspect your plant has spider mites (or any other unwanted bugs), rinse it off in a hose stream, and you may use any insecticide from Home Depot. Just remember - to keep your plants free of bugs, you have to spray on few times (usually every 10 days for each insecticide kind, according directions included).
A: You may try any bloom-booster fertilizer with high Phosphate, something like 10-50-10. They sell it in Home Depot for roses, azaleas (doesn't matter). Water soluable is the best action, and I recommend to spray leaves (absorbs faster and better than through roots). Another (new) fertilizer for blooming that I bought from HD - granulated "Colorburst Flowering Plant Food 15-30-15". I applied it to my plants a month ago, now everything is in bloom. But note that if you potted your Michelia in bigger pot or in ground, it needs some time to establish bigger root system. In this case I would suggest to wait for a while and give it a balanced ferlilizer (Osmocote 14-14-14 is my favorite). A Micro Nutrients mix is good for general plant health, too.

A:
Do not water until surface of the soil dries a bit.
Mist leaves several times a day.
Put a plastic bag over the plant, but leave opening for fresh air.
If there are yellow leaves, carefully remove them.
Even if the leaves drop, the plant should still sprout new growth under the proper care.
Place your plant in filtered light, no direct sun for a week or so - until you see it's stabilized, then you can move it to more sunny location.
Talk to your plant and give it your love.
Sometimes it's hard to guess what plant wants. Of course it's impossible to guarantee the success, but try... We lose rare plants once in a while no matter how hard we try. Of course shipping stress is not much fun for them, but well, we all take a risk.


A: After shipping plants are stressed; they may have damaged root hairs from shaking during transit. Such plant can't "drink" as much water as actively grown plant. Stressed plant doesn't grow and doesn't need extra soil for growing. A pot, which is much larger than root ball, holds too much water. It may cause root rot - the most common reason for stressed plants to die.
If you pull dead plant out of the pot you will notice plant doesn't have root. Don't rush to phone to call us complaining about shipping plant without root system. It had roots. They simply rot away in wet soil.
Small pot with very loose soil helps. It doesn't hold much water. It allows root system to breath (yes, root system needs air). It much easier to control watering in small pot: water only when soil is somewhat dry to touch. Provide high humidity. High humidity reduce evaporation, so root system doesn't need to work "hard" to supply plant with water. Please remember: more watering is not a substitution for a high humidity. Use plastic bags if necessary.
Again, the smaller is the better. When we recive bare-rooted plants ourselves, we put them in 4" small pots, even large plants. It helps to recover quciker. After you see new growth (leaves and roots) you can mmove plant into a bigger pot.
A: All our plants are tropicals and 99% of them won't tolerate even light frost. However, every little area has it's specifics, so we always suggest our customers to contact their Local Extension Service for more agricultural advise about certain plants suitability in their area. We are not able to know every place climatic conditions nationwide... Zone number is a relative characteristic. Too many things must be considered, and every little detail is important: sometimes Southern exposure spot protected from winds in zone 8 is good enough if you cover your plant with a blanket during cooler nights; other times, your plant might die in an open windy spot with Northern exposure in zone 10. The only advice we can give you for sure - if you have freezing during winter, you plants must be moved indoors (in pots) during cold period. Also, duration of cool period is important. Even if it doesn't get below freezing, too long period of cooler temperature might kill the plant.
A: Both Sambac and Cestrum are undemanding plants, so you can use any GOOD potting mix you find in nearest HomeDepot/Lowes/etc. By "good" I mean it has to be good peat-based soilless mix. Potting soil can't cost $1 for 30lb bag. It's something wrong. Expect to pay $6-7 for Scott/MiracleGro/etc names. General potting soil already has peat moss in it, so you can use is straight from the bag.
Never use heavy soils in pots. You don't need compost, manure, etc. The problem number one is overwatering and poor drainage, especially, when you use compost/manure.
Sometimes you can buy "soil conditioner" (we use "sta-green", but it your area other names could be available). Soil conditioner sells as "garden soil improvement" and this is very fine mix of bark pieces, pet moss, etc. You can use and mix with peat moss and perlite (use real perlite, not styrofoam imitation) and vermiculite. We make our own mix for all plants using soil conditioner, peat moss, perlite. It works great.
Sometimes you can get professional mixes, like pro-mix, metro-mix, etc. Their great too, however, we didn't find any big difference between "homemade" mix and professional one.
Instead peat-moss you can use Grow-coir (coco-based fiber), which is superior to traditional peat moss. We use it for our houseplants.
In pots, you should use Osmocote (or similar) slow-release fertilizer according to the manufacturer directions. Add it to the soil mix before you put plant in the pot. My advice to use fertilizer with micro-elements. Jasminum likes lots of iron. If you're going to put plants in hot, sunny spot, you can increase dosage and use "shorter" fertilizer. When you get our plants you'll notice that we put a lot of fertilizer. Which is OK in our hot and humid climate.
It's beneficial to use water-soluble fertilizer like Peters, Miracle-gro, etc. Especially, if you want to induce blooming. You spray your plants with fertilizer solution. They'll love it. And it's better to use weaker solution more often than full blast once a month.
Of course, do not use liquid fertilizer right away. Plants need time to adjust after shipping to their new conditions.
Check your local "advise" to fertilize plants during winter. Do not overfertilize them, especially, when temperature is low (of course, you'll have to bring plants inside. They are tropical plants and won't survive cold) - you can easily destroy root system.
And, again, do not overwater. Jasmines like water but they hate having wet feet. That's why drainage is so important.
Cananga odorata (Ylang-Ylang tree) is a rainforest tropical tree that thrives best in high humidity environment.
During shipment some leaves might drop or turn yellow/brown/black because of possible overheating and lack of humidity during transportation. Sometimes we trim the tree to fit shipping size and to decrease the burden for the plant.
Once your plant is arrived, pot it immediately in 3 gal pot or bigger with a well-drained potting mix. Water well and place the pot in a bright shade location. Placing a water tray with pebbles under the pot will be helpful to maintain higher level of humidity, as well as frequent misting. If you grow this plant indoors with air conditioning, it might die easily, no matter what humidity you have outside. The AC greatly reduced humidity (that's one of the purposes of it's use). Your indoor humidity might drop 30% and lower, which may be fatal for the plant.
It usually takes a week or two for Cananga to recover from transportation stress. If the stem got a little bend in the box, it will straighten up in a few days. If you provide the right conditions and proper care, Cananga tree will sprout new growth in a few weeks.
If you noticed leaves turning brown or black - that means, humidity level is too low.
Another important factor: avoid too big difference in day/night temperatures.
To encourage blooming, apply 1/2 doze of blooming grade water soluble fertilizer (12-50-14 or similar) once a month. Just keep in mind that it will take 1-2-3 years for the tree to bloom.
Growing Cananga odorata requires some experience, please be patient and careful with your plant.
Yes, you can grow them if you're ready to work with them. Most tropical and subtropical plants will not tolerate drops below 30 degrees while others will do fine for short periods. There are various things you can do to protect your trees such as X-mas lights to keep them warm, regular bulb inside a plastic protection tent, blankets (use fabric instead of plastic - under plastic a plant may "cook" in the morning sun). You can take large brown paper bags, sit a long cylinder glass candle inside (the bag protects the flame from wind). Another option - consider growing these plants in large containers which will be possible to move indoors, in garage or patio for winter. The most dangerous is not just a temperature drop, but a wind chill. If you keep your plant protected from wind, it might survive a few cold days in a row. Younger trees will damage the most. Older trees are more hardy.
A: You can successfully grow Michelia (Magnolia) champaca in a pot if you can provide proper conditions: warmth, high humidity and lots of sun. Move it outside during summer, fertilize often and you will be rewarded by pretty fragrant flowers. Champaca is very sensitive to over over-watering, so make sure to use potting mix, which provides good drainage.
We suggest to grow White champaca (Michelia alba). It's grafted plant and will readily bloom in 7-15 gal pot. Yellow (orange) champaca is usually grown from seeds and it will take ew years and a very large pot to make it bloom.

A: You can successfully grow Michelia (Magnolia) champaca in a pot if you can provide proper conditions: warmth, high humidity and lots of sun. Move it outside during summer, fertilize often and you will be rewarded by pretty fragrant flowers. Champaca is very sensitive to over over-watering, so make sure to use potting mix, which provides good drainage.
We suggest to grow White champaca (Michelia alba). It's a grafted plant and will readily bloom in 7-15 gal pot. Yellow (orange) champaca is usually grown from seeds and it will take few years and a very large pot to make it bloom.

A: Visit our Fragrant plants page. On our order page we have a section which is completely dedicated to fragrant plants.
A: Amorphophallus... :-)
A: Please refer to our Jasminum Sambac page, section Which variety to order?
A: By Dick Figlar (Magnoliaceae taxonomist):
Yes, all the former genera you mentioned have now been placed (back) into genus magnolia. For a short taxonomic history on this please go to www.magnoliasociety.org and click on classification.
The former Michelia spp. are part of the group of magnolias called subgenus Yulania which includes the spectacular deciduous magnolias from Asia. Almost all are late winter / early spring bloomers and the stamens remain attached to the flower for several days.
The former genus Manglietia spp. are part of the group of magnolias called subgenus Magnolia which includes Florida natives such as Magnolia grandiflora and Magnolia virginiana. These magnolias are primarily late spring / early summer bloomers and the stamens detach from the flowers after one day.
That so-called Parakmeria genus has never been recognized outside of China. These are part of a group of Magnolias called subgenus Gynopodium. They are similar to subgenus Magnolia except that the new leaves are whole while in bud (instead of folded in half as in the other two subgenera). DNA studies place Gynopodium in between the other two subgenera. So one could say they are the "intermediate" between the two major subgenera.
Now, there really never was a Manglietia yunnanensis. There was a Manglietia yuyuanensis and it is often mis-spelled with "yunnanensis." So it could be that one. It has long narrow leaves which are somewhat thick.
Or it could be Magnolia yunnanensis which is a Subgenus Gynopodium species. It has nice thick rubbery leaves that may at first be reddish when they are first produced.
Or it could be the former Michelia yunnanensis which is now known as Magnolia dianica. This species has very small leaves with almost no leaf stalk. It produces pretty, but small, white flowers even as a young plant.

A: Our plants are grown naturally outdoors, so it's impossible to keep them free of insects here in S. Florida. We spray them on regular basis, however, 2-3 weeks is enough for insecticide to "disappear" (because we can see new insects on plants). If you want to buy the plant and just feed it to your pet, then Publix or other supermarket is the better choice (they sell opuntia very often, however, I don't know if they guarantee pesticide-free plant. "Whole Food" will be even better choice). If you want to grow this plant, then it should ok in couple month to feed it.
Most of the fruit trees we sell will begin to flower and set fruit, especialy grafted varieties. Depending on the season they may even arrive with small fruit on them. When trees are young and not strong enough to support fruit you should pinch off the fruit; you may leave 1-2 fruits on for show. You don't need to do this with small fruits such as cherries. The grafted they should start normal fruiting within 1-2 years. The older the tree the more productive it will be. Production also depends on your growing conditions: if you meet the optimal requirements for the tree it will thrive.
Yes, if you provide them enough light and proper care. In our catalog you may see pictures of a small size trees blooming and fruiting in 1-3 galon containers. Look at these pictures: miracle fruit, black sapote, litchi, longan, white sapote, acerola, mango, naranjilla, pitaya (1 gal pots), guava, avocado, ambarella, mombin (3 gal pots), noni, mango, java apple (7 gal pots).
A: We have several sizes available: The smallest size is about 6" tall with a well-developed root system. The biggest size we sell is 15-24" tall 3 gal pots. Bigger size available upon request.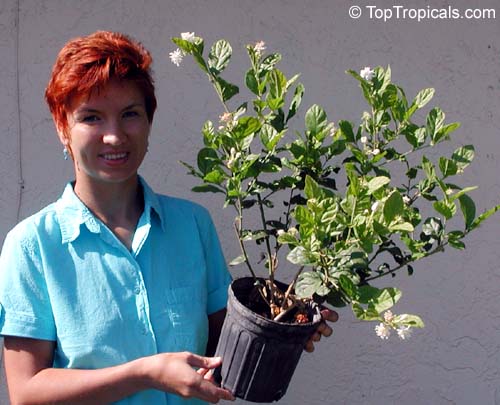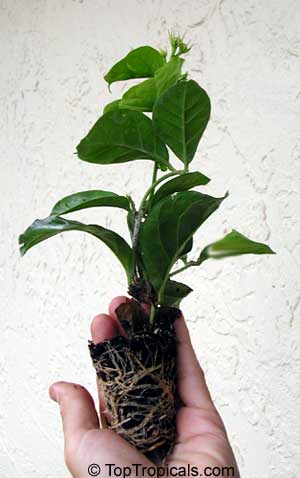 A: We do ship Sambacs to NY, and they are OK. However, it's always recommended to monitor the weather.
Make sure the plants have at least a few days indoors to adjust from shipping stress before your party - for better bloom. In fact, 'Maid of Orleans' jasmines bloom all the time, it's just sometimes they have more flowers: they keep blooming heavily for 3-4 days, then it looks like they take a "rest" for a few days (less flowers), then again produce a "splash" of flowers. So it' really hard to guess their "mood". However, the big plants that we ship have both flowers and buds, so I hope they won't let you down. Of course it's better to ship them beforehand, I would suggest 1-2 weeks before the party. Just make sure in NY they keep them on windowsills - the more sun, the heavier the bloom. A sunny (southern) window exposure will be perfect. Filtered light is OK too, as long as it's bright.
The flower of 'Maid of Orleans' is very tender and fragile and lasts only a day or two, so for sure you'll lose most of opened flowers during the shipping. So you will have to wait till next bloom "splash".
So the sooner you get them to the destination location - the better, as long as the plants will have enough of SUNLIGHT to produce flowers before the party.
A: 'Maid of Orleans' is the easiest. Although it has single flowers, and the flower lasts just a day or two, but it blooms constantly, fragrance is wonderful. It's flowers are the best for jasmine tea (we make it all the time). Also, this variety tolerates shade the best (even deep shade!). Besides, it has more "climbing" habit (of course you may keep it shrubby if you trim it). We have this plant covered the wall by our bedroom window (plant on the left):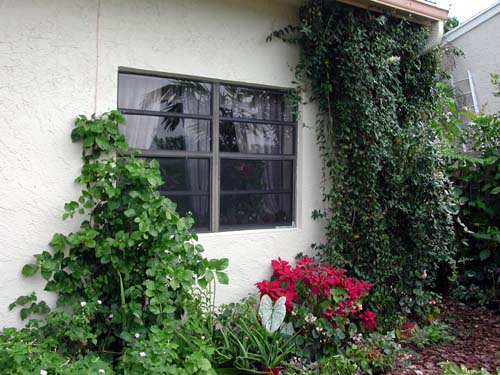 'Grand Duke' has beautiful double flowers, but they are only on tips of a branch. It needs more sun for more bloom, but also tolerates some shade.
'Belle of India' has long double petals, and it's also good for tea. Needs more sun, too.
A: Maid of Orleans is the most fast growing Sambac, I like it myself the best, because it forms a very attractive shrub or vine. Flowers are not as fancy as other Sambacs, but also very fragrant, and they are what they make jasmine tea out of. It has the greenest and prettiest foliage, too. Maid of Orleans makes a vining shrub unless you prune it regularly (in that case it will be a nice dense shrub). The branches get as long as 10", but they are hard enough and don't need much support (unless they grow too long). We have it by the wall at our window (see picture above), and I just have attached couple branches to the wall - it was enough.
A: All Sambacs are tropical plants and they might die if you have even a light frost in winter. So we recommend you just to plant them in 3 gal pots, that should be fine. Both full sun or shade is OK. Fertilize regularly, and make sure to use a good potting soil (with lots of organic matter like peat moss and humus). More information - Sambac Page.
A: Theobroma Cacao is indeed legal. Cocaine is made out of different plant, Erythroxylum coca, which is illegal.
A: Well, if you sent us email in Spanish, French, Italian, etc then we reply in Russian. If you email to an American company, don't expect that any other language but English is accepted. If you don't respect us, don't expect a respect in return. Use your common sense.
Q: We are publishers of ... and hope you can help us with the provision of some of your photographs. We are happy to use the photographs with your logo. Please let me know if this is possible. We need high resolution.
A: Using Top Tropicals images:
- For noncommercial use: feel free to use our pictures with our copyright provided. If need to re-size our photo, you must reprint our legible copyright Štoptropicals.com on it. You may contact us for higher resolution originals.
- For commercial use: see Terms of Sale and Rates