Live plant is a perfect gift!
How to buy a gift certificate:
1) Fill out all fields on the left and click "add to cart"
2) Follow payment procedure as usual
3) You will receive email with order number for your reference
4) Once the order is processed we will email the gift certificate code to the recipient.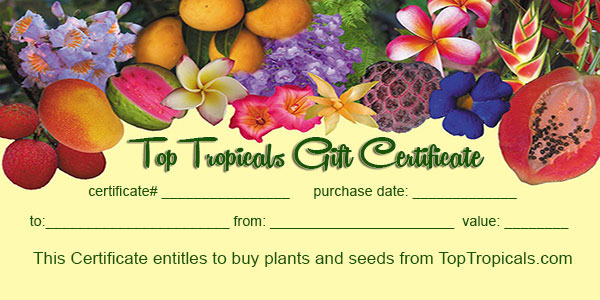 How to use a gift certificate:
1) Go to our online store and select desired items into shopping cart.
2) Enter Gift Certificate number in shopping cart (field "gift certificate", don't mix it up with discount coupon). Press "Recalculate". You will see the total amount adjusted.
3) If your total is more than the Gift Certificate value, you will be prompted to enter a credit card number to pay the remaining balance.
4) If the total amount is less than the Gift Certificate value, you can use the code again for the future use.
Feel free to contact us for recommendations what is the best to buy.
Gift Certificate Terms and Conditions
TopTropicals Gift Certificate Terms and Conditions are applicable in addition to the Terms of Use and Privacy Policy applicable to the TopTropicals.com website.
Gift Certificate is Nonreturnable; not for resale.
Notwithstanding anything contained in these Terms and Conditions, TopTropicals Gift Certificates are not returnable or refundable.
Resale of TopTropicals Gift Certificates is strictly prohibited.
TopTropicals Gift Certificates Do Not Expire